About the Spartan Series
---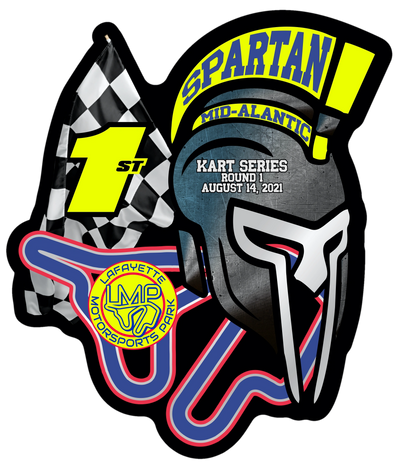 What is it?
The Spartan Mid-Atlantic Kart Series is a collaborative effort between three of the regions premier karting facilities to provide an exciting racing series with common rules, multi-engine platform, common tires and an abundance of racing with as little travel as possible. Round #1 and Round #2 will take place at LaFayette Motorsports Park in LaFayette, NY. Round #3 and Round #4 will move to Oakland Valley Motorsports Park in Cuddebackville, NY, finally Round #5 and Round #6 will take place in Hanover, MD at United Karting - BWI.
What Classes and Motors will be run?
Classes cover all the way from Kid Kart through Masters. Being a multi-engine format, all modern kart motors will be run in their respective classes based on proven weights and other specs. to keep things even and competitive between motor types. A full list of classes and structure can be found at the link further down the page.
What Tire will be used?
All three tracks will run the same spec. MG Tires as their own club races to make it as simple and cost effective to run without needing to buy special or a certain brand of tire for just this event. Tire specifications can be found in the class and structures document link further down this page. MG Tires will be available for sale at each track too.
Awards and Prizes
Trophies will be awarded at the end of each individual round, so two chances to win trophies each race weekend. Championship winners trophies will also be awarded for the top three series finishers in each class at the end of the final Round #6 at United Karting. Prize packages are still coming in from various suppliers and vendors to each track including full sets of MG tires for each class champion. Stay tuned for a full list of prizes as it's developed...but it'll be big...even a ticket to the KA100 Sr. class at the IAME USA Grand Nationals in 2022.
What fuel will be used?
Again, to keep the overall cost down for the competitors, each track running that particular weekend will run their usual spec. fuel, typically Sunoco 110 & 95, VP C9 & C12, Stewarts non-ethanol etc. Fuels will be available for purchase at each track for the race weekend.
How will points be awarded?
Points will be awarded in two ways, for the Spartan Series and each tracks local club championship series. The Spartan Series entry fee is only $100 per round (per Race day) which will qualify you to earn Spartan Series Championship points. If you are a regular at that weekends hosting track, you will also receive your normal club series points. If you are only interested in running for your local club points, you will only pay your normal club race day entry fee, however, you will not be eligible for that Rounds Spartan Trophies or Spartan points. Entrants need to have run at least four club races in their class at the hosting track to be eligible for club points. This is to help maintain the integrity of the local club points championship amongst regular club race attendees.
Where to Stay?
You are also welcome to park your campers and RV's at the track up on the plateau for a great view of the track, no charge, but also no hookups.